Reviews
Bridget Kiene
My kids are the pickiest eaters. Is so hard on this mama worrying about my kids getting the proper nutrients. Enter green rascal: the easiest way to sneak health into your kids diet. Popsicles, mixed in yogurt, swirled in OJ or milk, scrambled in eggs... you name it. "Hulk juice" is a staple in our house. Thanks Green Rascal for looking out for our kids and giving me a parenting win!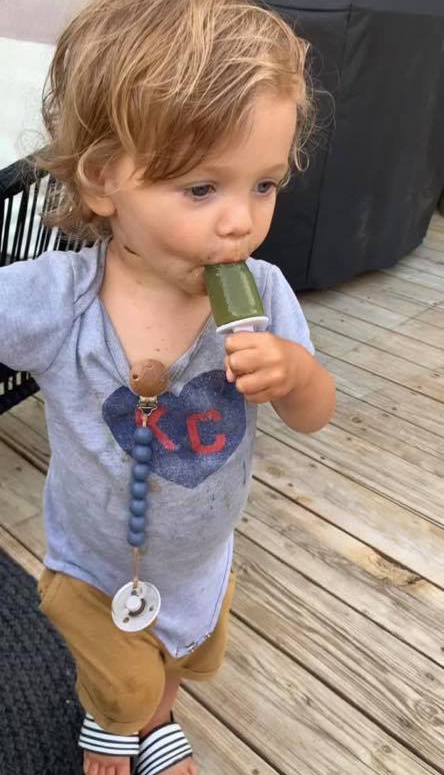 Rachel Holtzapfel
Definitely recommend!! We love green rascal! My boys love using the mixer in the starter pack to mix their "muscle juice". They enjoy the spinach mixed in orange juice (and so do I!) 
It's a quick and easy way to get my boys their vitamins and nutrients!

Samantha Andersen
Green Rascal is amazing! 💚 We use the spinach and kale. Both are great!! It was a constant battle to make sure my kids ate (and finished) their veggies but thanks to Green Rascal, my kids are consuming greens EVERY day now with zero fuss.
Woohoo! They can't taste it in their popsicles and juice. I even sprinkle some on my cottage cheese and in my coffee! Momma needs her greens too 🙂
Tiffany Kleman McGrane
My kids and I love Green Rascal! We put Green Rascal in milk, OJ, smoothies and yogurt. My daughter loves putting "vitamins" in her drinks and yogurt. She loves helping prepare her drinks with Green Rascal! My younger son doesn't notice I put Green Rascal in any of his drinks and always ask for more! The product has no harmful ingredients or additives. I am so thankful I have this product at home to help my kids get all the veggies they need in a day!

Leah Miller
I am so grateful to have Green Rascal in mine and my family's life! As a mom to two little boys and a girl on the way life is always go go go but with this product I never have to worry about whether we are all getting our greens. Whether it's the superhero "Hulk" popsicles I make with it or just simply adding it to my juice in the morning, Green Rascal makes it so easy and quick for everyone in my house to keep up the proper nutrition and stay healthy!
Laura Boyd
Love these products! I've been mixing both the spinach and kale with my morning lattes, and love the boost of nutrients I'm getting. AND all three of my kiddos love it too - especially the spinach! I love being able to get my picky 3-year-old to actually get some greens through this product!
Casey Rhoads
Such a great easy way to sneak greens in to my 3 and 1 year old's diet! They love it in their smoothies, yogurt, and popsicles. 10/10 recommend!